Diri menjadi bahan umpatan 'rakan-rakan'
Tuesday, 2 April 2013 | 2:49 am | by:nabilaa
<>
ASSALAMUALAIKUM
Hi, tiba tiba terasa diri ni lonelyyyyy sangat semenjak dah habis sekolah ni. Biasalah classmates semuanya busy kerja. and paling best. diorang jarang online macam dulu-dulu dah. emm boring. Btw, alang-alang terfikir pasal kengkawan ni kan, pernah tak for once or twice kita tersedar yang sometimes kita dijadikan 'bahan' dikalangan member kita. Tak kisah lah bahan sindiran ke, gurauan manja, kasar, keras ke or umpatan dorang. Janji KENA BAHAN.
AKU KENA BAHAN WOI. TSK TSK TSK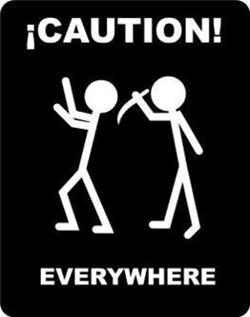 "pernah!"
"yeke?, tak la rasanya. kot.."
haa benda ni random tau. kiranya bukan terjadi kat kau sorang je. Jangan nak perasan sangat. Jangan nak kecik ati sangat. tahu?. tahu ke tidak! hahahahahaha
Ntah ntah ramai kat luar tu yg hari hari stress ya ampunnnn pasal masalah ada kawan yang macam gampang ini. ye macam tulah. lebih kurang. hihi.
Namun, tahu kah kita bahawa (cehceh) diri kita sendiri yg menjadikan kita dijadikan bahan sindiran ataupun umpatan rakan kita? Kita punya perangai tu yang kadang-kadang buat orang rasa tak suka, meluat, annoyed. So benda ni salah kita sendiri la. hmm.
salah dia jugak, skeatii ayahmak dia jeww nak bahankan kiteww kan kan kan...
Janganlah macam tu. kesian kat dia kena bahan. mak marah nanti baru tau. Orang hantar pergi sekolah suruh belajar pandai-pandai. Dia tu pepandai je bahan orang depan dakdak dia. Anak tak guna kau! hahahaha leklekk. #pheww
Jadi apa kata kita cari kat mana silap kita. Ubah memana yang patut supaya kita hidup bahagia kat sekolah tu. Takdelah rasa macam nk pergi sekolah pkl7.30am and then nak balik sekolah pkl 8 pagi. ada ke student cenggini? :O kita kena cari jalan keluar untuk elak dari terjebak dgn situasi sedemikian ye kawan-kawan

♥
Mungkin kita ni seorang yang ;-
1.Suka berkawan tapi tak ikhlas
Kita memang banyak kawan, tapi sebab ada extra dan kelebihan kita jadi sombong. kotkot la kita ni cantik, comel, putih, budak hotstuff dekat sekolah. Semua cikgu kenal, pengetua, makcik kantin, pakguard dan tukang kebun juga turut sama mengenali anda. Yelah, cikgu tangkap sbb selalu ponteng class lepastu pengetua nk meet parents. Lagipun time otw pergi kantin dia suka sepak pasu bunga kat area koridor tu ha bila sampai kantin dia cilok nuggets pahtu tak bayar lari lari lari tuptup dah sampai luar pagar sekolah. Ada atas motor otw nk balik je ni. ok. sorry merapu. xD
So ramai nk jadi member kita, cuma kita nk berkawan dgn budak yg sama standart dgn kita je. hmm otak kau lah. Dengan perangan pilih kawan ni, agak agak ada orang suka tak?
2.Tarik perhatian
Eeee suka sangat tarik perhatian orang, nk popularity letuww. Kita nk orang pandang kita sebagai 'something' yang ada 'sesuatu' yg hebat untuk dibanggakan. Walaupun dah tahu orang meluat, but still kita tetap bangga!
"puas hati aku! hahah"
jet jet je lah kau ni. Ni orang camnie layak dikurung dalam bilik kosong bersama lipas terbang. haa kau tobat dia insaf dah lepas tu.
3.Mengharap untuk diterima rakan-rakan
Ini kira mcm kita lifeless sikit ah. Sebab kita biasa biasa je, rupa pun tak berapa ada, tak cerdik pula tu tambah lagi dengan pengotor ke apa. Uniform semalam pakai harini,pakai esok,pakai sepanjang minggu dan selamanyaaaa..
orang mcm ni desperate lebih sikit sebab dia kena struggle depan kawan dia untuk tonjolkan kelebihan diri dia. Dahtu nama pun desperate, sumpah gedik punya la. takpun dia puji diri sendiri 24/7 hours,
"ehh aku comel la!" "tulisan kau buruk kot, aku punya cantik sikit" "tudung aku baik harini tu aku nmpak cantik tu"
pndek kata.. masuk bakul angkat sendiri. LOOOOOOOOOOOOOOOOOOOOOOOOOL
4.Jenis jiwa memberontak, anak org kaya, anak manja
Ini type yg dia rasa dia memang paling hebat dah. sorry la kat kau. dia dah cop dulu dah, dia laa paling hebat kau giveup jelah.. blah jelahh wakaka. Tanda dia bila kita akan rasa tak senang time member tegur apa-apa pasal kita, rasa mcm tak puas hati. tambah-tambah if kelemahan kita member tegur dgn cara sindir sentap kaw kaw baik punya rasa macam kena ejek tu
"takleh jadi ni. Tak tahu ke aku ni siapa! Aku dahlah anak dato"
*baling meja kantin kat dia*
Dari kita semua elok-elok berkawan, bff pesemua terus jadi berpisah dah. Mula lah ada istilah BACKSTABBER FRIEND disitu. pabila perangai mu umpama meminta kaki ini, jadilah kamu bahan umpatan kami ngihihi~
sesetengah orang
mana tahan.
tak boleh terima.
Mereka mengata saya,mereka tu kejam.
Tak guna.
mencarut.
ni semua jenis yang sensetive, takpun yg tak berapa open minded sangat. Jadi mohon jangan bergurau kasar dengan dia. nanti diew nangishh. huuu
So setiap permasalahan ada jalan penyelesaiannya!
:D
-cuba bersederhana dalam pergaulan bersama rakan. Supaya takde yg berkecil hati. jangan suka bangga diri.
-semua manusia tak perfect, banyak kekurangan. jadi mohon sedar diri. kebodohan jangan menunjuk kat orang sangat sorok sorok sikit. (maaf kalau kasar)
-Dia mampu,tapi kita tak mampu. Jadi terima kelemahan kita dan terus berusaha memajukan diri. Kalau jadi student yang pandai. Homework selalu siap. Kawan pun selalu datang nak tiru, haa kan takyah susah susah tarik perhatian diorang dah :b
-Pilihlah kawan yang baik. Yang boleh terima siapa kita sebenarnya. pendek kata yang bukan fake friend. So kita takde la malu sangat nk hangout dengan dia sebab dia anak jutawan kita cuma anak Pak Wan jew. Takde benda dah perlu disorok sorok. Kan bahagia! and tak lupa juga yang selalu ajar kita benda baik baik.
Ada kawan yang baik macam mama kita dan sangat gila seperti kita adalah nikmat duniawi! Yay!!
Once they stop talk to you, then they start talking about you. Beware guys! :)

Older Post | Newer Post